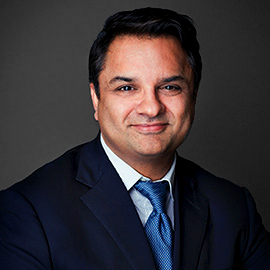 Mo Ahmad has over 17 years of experience providing tax advice to corporate and individual clients in cross-border situations. He himself has lived in a number of different countries so he knows first-hand what it means to relocate. As well, he has visited over 60 countries. He is a lawyer by training and has worked in the accounting field for the majority of his career.
Prior to starting Westmark Tax, he had over 12 years with Ernst & Young and other Big Four accounting firms in their Global Mobility practice. He was also a partner in a boutique accounting firm specializing in cross-border tax. He has extensive advisory experience on US and Canadian cross-border tax issues relating to global mobility. He has managed small and large corporate expatriate program clients with employees moving from/to a number of countries including Canada, US, UK, and others. With his legal background, he also has extensive advisory experience on tax issues relating to employee incentive plans such as stock options, restricted shares and other executive incentive plans.
Mo loves to help his clients solve their complex tax matters by breaking them down to make them understandable and easy to digest. He is a member of the Law Society of Upper Canada and received his law degree from the University of Toronto. He has an undergraduate diploma in managerial accounting from Wilfred Laurier University and an economics degree from the University of Western Ontario.
He is the chair of the Pacific Region for CERC (Canadian Employee Relocation Council) which is an organization dedicated to mobility issues for Canadian employers. He sits on the Vancouver Board of TiE (The Indus Entrepreneur), an organization dedicated to promoting global entrepreneurship. He also sits on the Board of the Tigra Foundation which brings an entrepreneurial spirit to the raising and gifting of funds for the benefit of homeless, injured, abused and orphaned cats and dogs. He has also participated in the "Ride to Conquer Cancer" for a number of years where he raised funds for Cancer research while riding from Vancouver to Seattle via bicycle.
Mo is married with two kids. In his spare time he enjoys playing squash, cycling and spending time outdoors in his spectacular home province of British Columbia.